There are literally hundreds of casino games, with a surprising variety of ways casinos can make money from gamblers seeking the thrill of the game.
$1000 BONUS

$1600 BONUS

$1,200 BONUS

$1,500 BONUS

150% BONUS

$750 BONUS

Kinds of Casino Games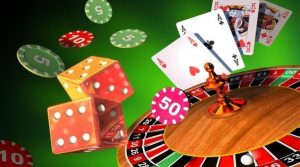 Casino games are typically divided into two types: table games and machine games. However, there are actually six distinct types of casino games:
Card games
Dice games
Wheel games
Other table games, such as Pai Gow Poker
Gaming machines
Random number games
This doesn't include sports gambling, prop betting, or a unique category: regional games. Regional games are the (sometimes bizarre) games popular in one region or culture that can't be found anywhere else. For instance, if you're playing in Macau, you will see plenty of Fan Tan gaming tables. However, if you actually learn how to play and get hooked on it, don't expect to easily find it stateside.
Card Table Games
Nothing evokes the image of "gambling" like a group of players around a card table. That is because cards are the most popular table games in most casinos. They run the gamut from high-skill games, such as poker, to pure-chance games, like baccarat.
Blackjack and its variants top the list of the world's most popular casino table games. As a fast-paced game of skill with a low house edge, this card value game is fun, exciting, and sometimes profitable.
Poker is one of the few casino games where players can gain a consistent advantage through skillful play. There are dozens of variants of poker, from high skill games against other players, such as Texas Hold'Em, to nearly pure chance games played against the casino.
The simplest table game in the casino sometimes is the most disappointing to most players. In Casino War, the high card wins, but few people walk away with more money than they started with.
A mash-up of poker and Pai Gow(the Chinese domino game), this game is played against the dealer to form a winning five-card and three-card poker hand. A skillful, consistent hand-by-hand strategy can seriously erode the house edge.
Baccarat is a card value game of pure chance played between a player and the "bank." The other players in the game bet on the player or the banker to win the hand. Usually reserved for high-roller players, baccarat has both the lowest and the highest house edge for any casino card game.
Red Dog, sometimes called Yablon or Red Dog Poker, is a game of pure chance that has nothing to do with poker or poker hands. The player doesn't play against anyone, but rather only bets on the outcome of the deal. While uncommon in physical casinos, Red Dog is hugely popular in online casinos.
Casino Dice Games
Dice games are the oldest gambling games. Their popularity endures because they are fun, fast, and loudly social. Even if you don't bet, watching the play at a craps table may be one of the greatest adrenaline rushes casinos offer.
Craps is a fast-moving dice game with a variety of betting options. The game boasts the absolute lowest house edge, but the high house advantage on big-payoff bets can eat up a player's stake rapidly.
Sic Bo, also called tai sai, daisiu, big and small, or hi-lo, is the most popular dice game in Asian casinos. If you look you will also find at least one sic bo table in just about every casino stateside. This is a game of pure chance. Players bet on any number of outcomes for a three-dice roll. Depending on your bet, the house edge can climb to a forbidding 40%.
You will occasionally find a Chuck ALuck or "birdcage" table at a casino. Like sic bo, players bet on the various outcomes of three dice that are "rolled" in a cage. The Big Six Wheel is actually a Chuck A Luck dice game, only the outcomes are spun on a wheel rather than rolled.
Wheel Games
In wheel games the dealer spins a wheel and, when the indicator comes to rest in a segment of the wheel,that determines the winner. They are games of pure chance, but the house edge quickly erases your winnings.
Roulette involves a rotating horizontal wheel with a set of colored numbers evenly listed around the edge. The dealer rolls a small ball around the interior edge, and when it slows down and comes to a stop it lands in a spot at one of the numbers.
Players bet on any number of possible low- and high-payoff outcomes. Roulette has one of the highest house edges, so it is rarely a winning proposition for players. That being said, roulette remains one of the top three most popular casino games.
The Big Six wheel (or Big Six, or Wheel of Fortune) is a large, vertical wheel with a number of pie-shaped individual segments. The dealer spins the wheel and, when it comes to rest, a pointer at the top of the wheel indicates the winning segment. With the highest house edge for any casino table game (from 11% to 24%), Big Six may be fun, but it will cost.
Other Table Games
If you can bet on a game, you can probably find it in a casino. You'll even find backgammon in some casinos. Some table games you are more likely to find in casinos than backgammon are:
Pai Gow is a table game played with domino-like tiles. Players try to form the highest-value five-tile and three-tile combinations they can from the eight tiles "dealt" to them. The combination values can be very complex, so Pai Gow is for skilled players only.
There was a time when Sigma Derby was everywhere. A game where up to ten players would bet on the "winner" of a five-horse mechanical horse-race game, Sigma Derby now is found only in a couple of casinos. The high house edge (10–20%) and the advent of sophisticated gaming machines have made Sigma Derby a rare treat for gamblers.
Gaming Machines
When you walk into a casino, your senses will be assaulted by the lights, sounds, and colors of gaming machines. By far the most popular games in both land and online casinos, gaming machines are the bread-and-butter of the gambling industry.
Over 50 percent of players rank slots as their favorite game. Whether they are computerized or mechanical, slot machines spin three or more mechanical or digital wheels to produce a line of outcomes. With a high house edge, slots consistently result in winnings for the casino rather than the player.
Just like in regular poker, there are several different versions of video poker. The basic video poker gameplay is to form the best poker hand possible. Players win specified payouts based on their hand.
Unlike all other gaming machines, some video poker machines offer extremely small or even negative house edges if played with skillful and consistent strategies.
Pachinko is a Japanese pinball-type gambling game. Players launch metal balls into the play area in the hopes of winning more metal balls, which can then be exchanged for prizes. Though limited almost entirely to Japan, pachinko is starting to appear in Vegas casinos. In Japan, the pachinko industry generates thirty times more gambling revenue than all the casinos in the United States combined!
Random Number Games
Finally, there are several random number games. Chances are you started playing one of these games at a very tender young age: bingo.
A lottery-type game, keno typically is found on every wall of a casino.Like the lottery, players are paid when a random drawing of numbers matches their chosen numbers. With a forbiddingly high house edge – up to 30% – Keno is not a good long-term investment.
Bingo is not just for senior citizens playing inretirement homes and church basements. Casino bingo has one of the lowest house edges. because of that, though it's a game of pure chance, bingo players who are smart can easily walk out of the casino with more money than they brought in.