Since many games are games of chance, and there's no guarantee of winning, you may think that having a strategy on how to win makes little sense. However, that's not the case.
The more you understand how a game works, the easier it is to see how little decisions and strategies can at least help set a good groundwork for winning. Here are some basic tips for how to win at roulette.
Practice Free Roulette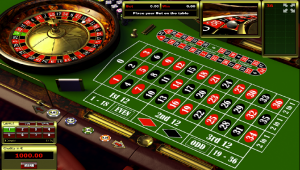 It may sound obvious to practice games of chance, but it's always good to learn how the games work before you head to the casino. Free online roulette games are different from the real-life gaming tables in a number of ways.  However, they offer you the chance to learn the rules and the intricacies before you place your first bet.
You can become familiar with such aspects as:
the table layout
how the wheel works
how the bets operate
how wins are paid out
And you can do all that before you've spent any of your own money! Practicing online for free gives you the opportunity to head to the casino with fewer questions and more confidence.
Learn Various Roulette Games
There are different kinds of roulette games. European roulette wheels (with a single zero) have 37 slots, which means you have a 1-in-37 chance to win every time you bet on a single number.  American roulette wheels have an extra slot (double zero), so your chances are 1-in-38 that you will win. So European roulette offers you slightly better odds for the exact same payout.
No Need to Hurry
Before you place your first bet, take a few minutes to watch the roulette table. This is a good way to develop the habit of getting along with your fellow gamblers and the casino staff, which will enhance the playing experience. You don't want to play at a table where the participants seem stressed or anxious, or if they're betting too high or drinking too much. Don't play if you feel the mood around the table is aggressive. If you play relaxed, you play smarter and you are less likely to make bad decisions due to stress.  Watch the table for a few spins of the roulette wheel before you make your first bet.
Know How Much to Bet
When you're a beginner at any casino game, including roulette, it's smart to start small. Before you even set foot in the casino, decide how much you're willing to spend and how much you're willing to lose.
Place a few minimum bets to get the flow of the game and feel the rhythm.
It helps to set a time limit for how long you plan to spend at the roulette table, whether you're winning or losing.
Then, do a little math. Know the total amount of money you're willing to play with and lose for the day. Know your time limit. Then divide those numbers.
The average roulette wheel spins about 40 times in an hour. If you know how much time you plan to be there (1 hour) and the size of your bankroll ($40), then you can figure out how much you should bet per spin ($1). If you are winning, don't spend that money. Do not add it into your pot to spend on spins. Professional roulette players cash out every win, and you should too. It guarantees that if you win some money, it's going home with you and not staying at the casino.
Outside Roulette Bets Are Good
In roulette, there are bets known as "outside bets." These are along the sides of the table layout, outside the main field of numbers. For beginner roulette players, they can be a winning strategy.
Dozens
First, there are outside bets known as "dozens."  You'll see boxes on the table noting "1
st
 12," "2
nd
 12," and "3
rd
 12" or "1
st
 Dozen," "2
nd
 Dozen," and "3
rd
 Dozen." Placing a bet on one of these boxes is betting that the roulette wheel will land on a number in that group. For example, "1
st
 12" includes the numbers 1 to 12, so any of those 12 numbers could net you a win. This clearly increases your odds from betting on just one number on the table. The only thing to note is that zeros do not count in any of the dozen categories, so that would be a loss. The payoff for a bet on one of the dozens is generally 2 to 1.
Columns
Column bets are boxes at the end of a column of numbers in the table layout. If you make a column bet in one of these squares, any one of the numbers in that column could net you a win.
Red or Black
You can also bet on red or black or on even or odd numbers, which offers you a 50-50 chance of winning. Payouts on these wins are even money.
Low or High
Finally, you can bet on low or high numbers. You'll see boxes on the table layout with the notations "1–18" and "19–36."  A winning number in the range you have bet on is a win for you at even odds.